After Transmigrating into a Book, I Have an Entire Family of Cannon Fodder - Chapter 18 Part 2
Chapter 18 Part 2 - Ice cream (2/2)
Translated by astrid83 <3
---
The six guests were sitting in a row waiting for the plane, and Luo Qiuman was using his massager while sitting next to him on the left side.
Bo Ye was on the far right. When he felt his phone vibrate, he took it out and glanced at it, then switched off his screen.
🅂🅄🄿🄿🄾🅁🅃 🅃🄷🄴 🅃🅁🄰🄽🅂🄻🄰🅃🄾🅁 — 🅁🄴🄰🄳 🄰🅃 🄵🄾🅇🄰🄷🄾🄻🄸🄲.🄲🄾🄼
Qi Xingchen waited but did not receive a reply; he leaned forward to look to his right and found that Bo Ye was listening to music with his headphones on, so he probably did not hear it.
He typed again: 【By the way, what did you use to buy it? Didn't we have nothing left of the funds for our stop at Denmark?】
During the recording, the camera followed Bo Ye practically every inch of the way, and had also followed him when he went to buy ice cream just now, so Bo Ye could not find the opportunity to cheat by using his own money.
Bo: 【Just eat.】1
Xingxing: 【……Oh】
How harsh, Qi Xingchen put away his phone indignantly. It was the first time he had eaten such delicious ice cream. Not wanting to finish it too quickly, he took small bites each time.
Bo Ye subconsciously stroked his index finger, where a ring had been, but was now completely bereft.
.
After the ten hour plus flight, it was already Monday noon when the group arrived in Qianzhou.
Director Zhao was quite forthright: "We'll pay for the vehicle to the destination this time, no need for you all to spend money!"
"Ah," Zhang Yunfei was so tired that there were rings of green and black around his eyes, "My intuition tells me that you guys definitely are up to no good2."
Sure enough, Zhang Yunfei's intuition was accurate. After getting into the multi-purpose vehicle and catching up on their sleep, when the group opened their eyes, they were already in the middle of a boundless expanse of green.
Qi Xingchen jumped out of the car, hand at his brow as he stood on tiptoe to look ahead. All he could see were the continuous mountain peaks reaching through the clouds; the lush green mountain forests were limitless, as if the ends of the mountains were the edge of the world; a place that could never be reached.
"It's beautiful!" Seeing this kind of view, the guests could not help but exclaim.
At this moment, more than ten villagers driving ox carts, seeing the multi-purpose vehicle approaching, immediately started applauding while shouting with accents interspersed: "Welcome Damai3 TV to Niuben4 Town and Yangshan5 Village to film a drama!!"
"…… It's Maimang6 TV, not Damai," Director Zhao was the last to get out of the car and corrected exasperatedly, "and not to film a drama, but to record a programme."
🅂🅄🄿🄿🄾🅁🅃 🅃🄷🄴 🅃🅁🄰🄽🅂🄻🄰🅃🄾🅁 — 🅁🄴🄰🄳 🄰🅃 🄵🄾🅇🄰🄷🄾🄻🄸🄲.🄲🄾🄼
"Forgive me, leader, forgive me, I said it wrongly," the leader of the group of villagers said sheepishly, "My name is Zeng Er7, you can just call me Old Zeng. The village chief, whose sheep is giving birth, asked me to receive you. I don't have a way with words8, so leader, don't take this personally hah."
Saying this, he pulled out a towel from his trouser pocket and gave a few harsh whips on the ox cart: "Get in, leaders, it has been raining for the past few days and the road is all muddy, so cars can't get in, we can only inconvenience everyone to take this la!"
Liu Ziyu: "……"
When she had said at that time that she might as well be participating in X-Change9 when she joined《Budget Travel》, she never thought that her words would turn out to be tragically prophetic. With the situation now, how was it any different from f*cking X-Change?!!!
The guests climbed onto the ox cart with wooden faces, and Qi Xingchen stared at Bo Ye from the corner of his eyes and could see with one glance that his complexion was not looking well.
He had a chronic dust allergy, all of the Night Skies knew about it. Facing an ox cart that was full of dust, no one could say for sure if his allergy would be triggered.
Qi Xingchen took off his outdoor jacket10 and laid it along the side of the cart without batting an eyelid, "Bo Ye-ge, there are wooden splinters here, be careful."
He was afraid that the villagers could hear them and it would hurt their pride, so he didn't say that it was because there was so much dust. This was also why Bo Ye had kept quiet. Luckily, Qi Xingchen managed to cover it up with a reason, and Bo Ye nodded at him in acknowledgement, finally taking a seat.
The road into the village was really bad, and after moving then stopping again and again for over an hour, the guests covered their bottoms while they were sent to the village chief's office by Zeng Er.
The village chief's office was right at the entrance of the village, a small brick room of a dozen square meters, which would not have fit this many people if the village chief had not gone home.
Director Zhao made the guests stand in a line, "Yangshan Village and the surrounding mountain range and villages are the main tourist places we will be tackling at this stop. From now on, I will release a mission message every morning. If the mission is completed, the challenge will be a success; if not completed, the challenge will be a failure and two thousand dollars would be deducted from the travel funds."
"Two thousand?" After hearing the director read out the rules, Tao Tao couldn't help but protest, "We're down to four thousand now, after two deductions, wouldn't we lose all of it?!"
Director Zhao shrugged, "You all can choose to complete the mission ah."
"…… Who knows how difficult the task will be!"
🅂🅄🄿🄿🄾🅁🅃 🅃🄷🄴 🅃🅁🄰🄽🅂🄻🄰🅃🄾🅁 — 🅁🄴🄰🄳 🄰🅃 🄵🄾🅇🄰🄷🄾🄻🄸🄲.🄲🄾🄼
"It doesn't matter how difficult it is, I've invited help for you all at this stop," the director laughed, "our temporary guest11…… Oh, speak of the devil12, he's here just at the right time!"
Through the very small glass window, a thin, tall man could be seen talking to the video camera as he walked this way, and the curious guests stretched their necks to look outside.
Only Qi Xingchen was frozen in place as if ice water had been poured over his head, unable to utter a single word.
---
Allow me the courtesy of bringing in the yesung slipper.gif once more.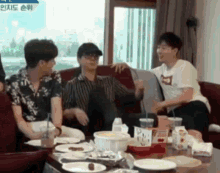 I think y'all would know who this is.
If you enjoyed my translations, do leave comments down below! (or if you're shy, just react hehe) Or you can sponsor my coffee at 1am at:
Take care of your health everyone! Cheerios! ~astrid83 😀
Footnotes
Support Foxaholic
Your donations will go towards site costs and management.
Individual translators usually have their own ko-fi buttons.
Support Foxaholic
Your donations will go towards site costs and management.
Individual translators usually have their own ko-fi buttons.
Tags:
Acting
,
BL
,
Celebrities
,
Dense Protagonist
,
Doting Love Interests
,
Doting Older Siblings
,
Doting Parents
,
Familial Love
,
First Love
,
Handsome Male Lead
,
Happy Ending
,
Hard-working Protagonist
,
Modern Day
,
Movies
,
Multiple Reincarnated Individuals
,
Multiple Transported Individuals
,
Past Plays a Big Role
,
Previous Life
,
Talent Showbiz
,
Transmigration
,
Wealthy characters