Please Stop Pretending to Be a Cute Newcomer! - Chapter 4
TL:SleepyHypnos 
PR:QuarterWings
While standing at the door with his pajamas on, he asked, "Someone died?"
Shi Juan, the woman who was staying opposite to Shen Qingcheng's room, had died.
Right now, the door of Shi Juan's room is wide open. Inside the room were several players checking out the situation. All of the players are here except for the man who left early with a dead person yesterday.
Shen Qingcheng stood far away from them. From his position, he could only vaguely see a pale ankle hanging by the bed.
Xue Tong Zheng was half embracing Bai Yi who was crying near the door. Shen Qingcheng recalled that the scream seemed similar to Bai Yi's voice.
It's depressing to face a murder scene early in the morning.
Chen Ge was the first person to leave Shi Juan's room. He covered his mouth like he wanted to vomit but couldn't. His face was so white that he could compete with the dead person's ankle.
He walked towards Shen Qingcheng and shouted, "Shen'ge!"
Shen Qingcheng looked at him and asked, "What's going on in there?"
Chen Ge's face paled even more. "Shi Juan is dead."
Bai Yi told them that the name of the person who recently died was Shi Juan. Bai Yi had dinner with Shi Juan last night. Later, Shi Juan left the table first, and Bai Yi tagged along with Xue Tong.
"We know she's dead, we're asking you how she died!" Bai Yi shouted so loudly that Chen Ge nearly went deaf.
Chen Ge hesitated for a moment, then replied. "I'm unsure, but it seems that she was suffocated to death."
Shi Juan's whole face was purple, and her eyes stared blankly at the ceiling. He winced just by thinking about how she died. This instance is quite dangerous. A person died before the first day even ended.
"No traces of blood?" Shen Qingcheng asked as he raised his eyebrows.
"I don't think so."
"Why did Mr. Shen think there would be traces of blood?" Zhou An'an walked out of the room and continued, "It'll be better if you share your thoughts with everyone."
Bai Yi rested her head on Xiu Tong's shoulder. She was crying so much that she was having a hard time breathing.
Bai Yi's cries were getting on Zhou An'an nerves that she couldn't help but ridicule, "For the love of God, can you please stop crying? Aren't you aware that you're the only one acting spoiled? You act like your parents never loved you!"
Xue Tong wasn't sure if he hated Zhou An'an. But every time she opens her mouth to say something, he just can't help but interfere and rebuke.
Liu Zimei—a man who doesn't like disputes—cut in before a fight broke off. "Okay, let's discuss what happened to Shi Juan first."
"We have to find out whether her death was caused by a ghost or… " He paused.
He didn't speak the last two remaining words, but the people present in the scene knew what Liu Zimei's complete meaning was. They have to find out whether it was man-made.
If a person did it, they will have to guard against the people around them in addition to the supernatural creatures.
Zhou An'an and Xue Tong step back. Zhou An'an spoke, "Let's all gather downstairs and discuss what happened last night."
"Oh, then I should take a bath first." Under the watchful eyes of several people, Shen Qingcheng pulled his wrinkled clothes down, which were pasted to his body. "If it isn't bothersome, that is. In fact, I can take a bath later."
His tone carried a hint of kindness.
"Ten minutes." Zhou An'an spoke. She went downstairs, taking the lead.
"Brother Shen, I'll go down first." Chen Ge whispered to him and followed the people close by.
She said ten minutes. But it's not like I agreed.
Shen Qingcheng's lips curved upwards and entered Shi Juan's room.
Ten minutes later, Shen Qingcheng appeared in the hall on time. He not only took a bath and changed into some clean clothes but also went to the canteen to pack breakfast and came back. 1
It all happened too early. Everyone was woken up early in the morning. They didn't have time to eat breakfast, so when they smelled all kinds of food from Shen Qingcheng's bag; they couldn't help thinking about what they could have taken rather than waiting in the hall in vain. They were very angry.
Very hungry and very angry.
"When did you buy those? Why haven't we seen you walk across the hall?" Xue Tong frowned and couldn't help but ask.
"I just found a back door near the stairs, it's much faster to reach the canteen if you take that route." Shen Qingcheng replied. He found a seat and sat down, he stretched the bag aside and asked, "Do you want some?"
Lu Qi looked at him sideways. After a few seconds, he took two siomai, "Thank you."
"No worries, no worries," he said cheerfully as he put the whole bag into the man's arms. "I have a small appetite. I'll just give these all to you."
Chen Ge silently watched the interaction between the two and felt sour. If Shen'ge has a small appetite, he could've given me the bag, I also didn't eat breakfast ah…
"Well, a few minutes more and it'll be 8 o'clock. We should solve this matter quickly, so we can go and eat breakfast as soon as possible."
"Bai Yi, you discovered Shi Juan's death first. Can you explain why you went as early as 7 o'clock to find Shi Juan?"
Bai Yi pinched her skirt. She stopped crying but there were still a few sobs that could be heard from her. "I made an arrangement with her last night that we will eat breakfast together today. I got up early, and went straight to Shi Juan's room to find her after taking a bath."
"Her door wasn't locked. I shouted twice but I heard no replies from her, so I decided to push the door open," she shuddered and spoke in fear, "And then, the result was what we now all see…"
Shen Qingcheng saw Shi Juan's body. She was indeed suffocated as Chen Ge said, but he was sure if it wasn't the work of a fierce ghost.
He has been a Heavenly Master 2 for 20 years. He can tell if it's a fierce ghost doing it or not. It is useless to seal his Yin Yang eyes in this spicy chicken game!
Shen Qingcheng thought proudly as he took a sip from the soup container. ah~ so delicious~
"I can testify Bai Yi's words, she did say yesterday that she would have breakfast with Shi Juan today." Xue Tong uttered.
The reason why he knew this was that he invited the other person to have breakfast with him yesterday, but got rejected.
However, these statements alone cant justify that she is innocent and clear from suspicion.
"Who're the people living on the fourth floor?" Meng Tianhai asked. He was a person who had always kept a low profile from before.
Xue Tong is one of the players who live on the fourth floor. He immediately exploded when he heard this, "What are you trying to say? Are you trying to imply that someone from the fourth floor did it!?" Even Bai Yi couldn't calm him down.
The expressions from everyone were hard to describe just by a few words, it's quite clear that they're still checking whether the death was man-made or not. Yet he panicked and defended the floor he's staying on like he was feeling guilty about something.
Shen Qingchen leaned closer to Lu Qi and whispered to his ear, "I think he's stupid. "
"Don't lean so close to me." Lu Qi frowned as he spoke in a low voice. Facing Shen Qingcheng's innocent expression, he pursed his lips and moved aside.
"Me, Xue Tong, Sister Shi Juan, Lu Qi, and Shen Meiren live on the fourth floor. Bai Yi spoke softly as she continued to hold Xue Tong back.
Zhou An'an took over the interrogation and asked, "Did any of the people who live on the fourth floor hear anything peculiar last night?"
Xue Tong said hastily, "No!"
Lu Qi briefly uttered, "Footsteps."
"Wow, what a coincidence~ I also heard footsteps!" He immediately raised his hand.
Everyone turned their attention to Bai Yi, the only one remaining.
Being watched by so many people, Bai Yi started to feel nervous. She lowered her head and dared not to make eye contact with anyone. She mumbled, "I-I also heard footsteps. In addition, I heard someone knocking on someone's door."
Shen Qingcheng glanced at Bai Yi.
"Who was knocking? Whose door were they knocking? Was it Shi Juan?" Zhou An'an asked.
"No, I don't think so," Bai Yi took a glance at Shen Qingcheng carefully before she continued to speak, "I live next to Shen Meiren. Listening to the sound, it seems that it came from Shen Meiren's door."
"And..and…" she hesitated as she looked back and forth between Shen Qingcheng and Lu Qi.
"And what? Say it!"
Bai Yi clenched her teeth, "And I heard someone called Shen Meiren's name, which sounded like Lu Qi's voice."
She added in a low voice, as she spoke her ears turned red, "As we all know, Lu Qi's voice is quite unique. I couldn't mistake it for someone else."
"It is very unique. Very soothing and very manly." Shen Qingcheng nodded in agreement.
Chen Ge wanted to cry when he heard Shen Qingcheng's remarks. He couldn't believe how he still has the mood to tease others. For the first time, he's starting to think that it's a mistake to hold this thigh. Shen'ge may be the new Rookie King, but he's unreliable!
"Were you the only one who heard it?", Chen Ge asked, reminding everyone indirectly that these are just words coming from Bai Yi alone.
Lu Qi also said, "I didn't leave the room last night."
One said he had never left the room, and the other said she heard his voice in front of Shen Qingcheng's doorway. It still needs in-depth verification to verify who told the truth.
"I wonder… " Bai Yi suddenly thought of something, "Lu Dage said he hadn't left the room. Shen Meiren brought you to breakfast a while ago so the both of you should have a good relationship. But Shen Meiren, Why didn't you open the door?"
Yes, since their relationship is good, why not open the door? Whether it was Lu Qi or not who knocked on the door, why did Shen Meiren choose not to open the door?
Didn't he hear the knock? Or is he not in the room at all…
Knowing that everyone was looking at him. Shen Qingcheng burped then calmly took a paper towel and wipe his mouth with it, "I didn't murder anyone."
Zhou An'an stood up, "Shen Meiren, I have to bother you to explain what Bai Yi's words meant or else…"
She is unlikely to commit murder, but she won't let Shen Meiren roam around freely until she finishes the task and leaves the instance. Otherwise, she wouldn't even know how she'll die.
Shen Qingcheng felt it was funny, he told them he didn't kill anyone, and no one paid attention to his reasons. Lu Qi said he didn't leave his room and nobody dared to investigate.
Ai, this is precisely the difference between a big shot and a vegetable chicken ah~
Lu Qi looks like a big shot, so they dare not to target him. Because of that, they're now pointing the spear to this vegetable chicken?
Whether he really is a vegetable chicken or not isn't yet written in stone, but Lu Qi is a big shot!
It's really a good thigh ah~ I have to hold it tight.
"Or what?" he asked strangely.
Zhou An'an replied, "Or we can only lock you up first."
In this supernatural world, being trapped in the same place is basically the same as waiting for death.
"Oh, I'm so scared~" it would have sounded realistic if no one bothered to look at his facial expression.
Lu Qi interfered, "All your guesses are based on what Bai Yi said is true."
"You're right lah," Chen Ge quickly agreed. "What if she's lying, then aren't we just blaming the wrong person?"
"I-I'm not lying. I really did hear Lu Dage's voice…" Bai Yi bowed her head, feeling wronged. "I'm just telling you all what I know. If it isn't Shen Meiren,then what he said will just be true……"
What she said was reasonable. Even Shen Qingcheng himself believed it.
Little girls in this day and age don't study well all day to night, always daydreaming.
He looked at the man beside him. "When did you change your name?"
Lu Qi: "What?"
"Why is she calling you Lu Dage all day? Is your surname 'Lu', and the given name 'Dage' ma?" 3
"Shen Meiren!" His carefree attitude angered Zhou An'an. "Please take this matter seriously. It's related to the lives of the rest of us players!"
"You won't believe me when I say I didn't do it," he shrugged. "Fine, fine, I'll take this seriously. Bai Yi, you're sure that I did it?"
Bai Yi: "I didn't say that."
Shen Qingcheng: "But that's what you meant even if you don't say the actual words. Tell me, do I really look that good to splash dirty water on?"
The players' attention is now on both of them. Bai Yi retreated timidly as if frightened by his tone, "It may also be a ghost…"
Who would have thought that instead of getting angry, he only gave her a subtle look? He then raised his eyebrows and asked, "Did you really hear a knock on the door last night?"
Bai Yi doesn't understand why he suddenly asks this, so she hesitates for a moment and nods.
Shen Qingcheng's eyes became complicated and full of sympathy. Ai, now I feel embarrassed for questioning her.
Both sides insisted on their own words, and the scene fell into a stalemate. When everyone was silent, he secretly leaned towards Lu Qi and asked, "You really don't know who the murderer is?"
Lu Qi looked at him with his dark eyes. He didn't say whether he knew who the murderer was, but he was sure, "You knew it was man-made."
"!" Shen Qingcheng quickly covered Lu Qi's mouth.
Don't say it if you don't want to say it. Why are you here exposing people lah?! He angrily walked away from him.
A few minutes later.
"Is everybody here?" Liu Wangyu came in from the door and saw the picture of everyone gathered in the hall. He smiled. "Good. Your work has been assigned, and it should have been sent into your mobile phones."
He was dressed like yesterday. His black frame glasses were resting on the bridge of his nose. His eye bags were less visible than before, so it looks like he had a good rest last night.
Shen Qingcheng followed the crowd and looked at his phone:
"Identity: Class 1 PE teacher of Xingxing Kindergarten. Attachment: Recreational Classroom password XXXXXX"
Forgetting that he was still angry with the person next to him, he asked, "What are you? "
Lu Qi: "Security."
Yo yo yo, his figure does suit his role~
After confirming that everyone has received their roles, Liu Wangyu spoke, "Today, a package for the childrens' class clothes and textbooks just arrived. I kindly ask the teachers to sort them out in your prospective classrooms."
Having said this, he smiled at everyone and quickly left the apartment building.
"What shall we do now?" asked Liu Zimei. She is a kind and gentle person, not wanting to offend anyone. This led to her not having her own opinions.
"Let's eat first," Zhou An'an casually."Now that we have received our roles, the places locked yesterday should be open to us. We should hurry in collecting information."
"What about Shi Juan's death?! " Xue Tong asked with a hint of dissatisfaction in his voice.
"Then do you have any idea who did it?" she snorted coldly. Her high heels echoed as she walked past Xue Tong and pushed him aside.
Shen Qingcheng and Lu Qi were not with them, as they ate their breakfast early.
After everyone left, Lu Qi, the new security guard, went straight to the kindergarten security office. Shen Meiren, the PE Teacher, followed Lu Qi with a leisurely pace.
"Won't you ask why I'm following you?" Seeing Lu Qi not questioning him has piqued his curiosity. Shen Qingcheng couldn't help but ask about it.
"Do as you wish."
"Say, Security Dage has to protect me well. You see the way they targeted me in the hall? Frightened me so much!" He clutched his chest and cried bitterly, "They wanted to lock me up, and I'm most afraid of little black rooms!"
"My last name is Lu."
Shen Qingcheng was shocked. "What?"
The man didn't talk. Shen Qingcheng thought and hesitated, "Lu Dage?"
Lu Qi's footsteps stopped, but he didn't respond to Shen Qingcheng. Then he quickened his pace and hastily walked towards the front.
"Hey, wait for me!" Shen Qingcheng also quickened his pace to catch up with Lu Qi.
Eh, did he forget to bring something? What's the rush?
The security room of XingXing Kindergarten is next to the teacher's building. A sign with white characters on a blue background was visible on the door frame. Lu Qi was standing in front of the door. He stared at the opened door that was tightly locked with a padlock yesterday.
He was going to the door open.
"You're walking too fast. I feel hot while running!" Shen Qingcheng—who was behind him—complained. He trotted for two minutes to catch up with the man, and due to it, he was feeling hot.
Seeing Lu Qi's past movement, he pushed the door open, a cold air mixed with dust blew to his face.
"Cough," he immediately hid behind the man and waved his hand to flap away the dust, "How long has it been since this place was cleaned? It's so dirty."
The security room wasn't practically large. It looked simple and well-lit. In the middle of the room, there are two parallel tables. Two turned-off computers are sitting on the table.
There is a monitoring screen on the wall opposite the table. The screen is black at this time, and there are several rough broken wires next to it. In addition, there are many blank papers scattered on the ground.
"A month and a half." Lu Qi spoke as he pushed the ceiling on top of the lamp, lifting his foot to get in.
One and a half months, and now there are still 20 days to start school. It's useless to spend the summer vacation.
"Are you going to try and adjust the monitor?"
"En.
Shen Qingcheng hesitated to go in. There was too much dust and he just took a bath this morning. But suddenly, a great force pulled him from the waist, and Shen Qingcheng was suddenly pushed in.
The door closed with a bang.
---
Hello sleepy here~ I apologise for not updating frequently. I'll be back on doing one chapter 1 week. if it's fine, I can cut my chapters into two for faster update (but I don't see myself really doing this.. If I do, there'll be more cliff hangers than it should have(´~`)) (*ˊᗜˋ*)ᵗᑋᵃᐢᵏ ᵞᵒᵘ for reading~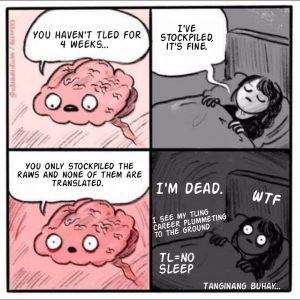 Footnotes
what kind of supernatural being is MC…I can't even properly take bath in 20 minutes, much less doing all that in ten minutes..ಠ_ಠ
I feel like more people would understand what his past work is if I use the English term of "tainshi"
Support Foxaholic
Your donations will go towards site costs and management.
Individual translators usually have their own ko-fi buttons.